Stabler Arena, Lehigh University, Bethlehem, PA, US

[11/09/93]
MATRIX: AMT #1+2+3 / AUD #1
[img]
[/img]
MEZCLA DE 3 CAMARAS
SETLIST:
Radio Friendly Unit Shifter
Drain You
Breed
Serve The Servants
About A Girl
Heart-Shaped Box
Sliver
Dumb
Come As You Are
Lithium
Pennyroyal Tea
School
Polly
Milk It
Rape Me
Territorial Pissings
Smells Like Teen Spirit
All Apologies
Jesus Wants Me For A Sunbeam
In Bloom
On A Plain
Scentless Apprentice
Blew
SOURCES:
Video 1: HI8(M)>VHS(1)>DVDR (AMT #1, Jim Hirte)
Video 2: 8MM(M)>MINI-DV(2)>DVDR (AMT #2, Bill Mayer)
Video 3: VHS(x)>MDV(1)>AVI[DV25]>M2V/WAV[8Mbps CBR/48kHz PCM]>DVDR (AMT #3, Mike Ziegler)
Audio 1: DAT(M) -> DAT(1) -> WAV[48kHz] -> WAV[44.1kHz] -> FLAC[Level8] (AUD #1, Mike Ziegler)
NOTES:
AMT #2 & #3 have been lenghtened by about 15 frames to synch with AMT #1.
AUD #1, although being DAT, still was out of synch with all AMTs.
Despite removing 22 red frames (adobe premiere errors maybe) some still are slightly visible.
Included both AUD #1 and AMT #1 audio, because they both sound good.
AUD #1 audio track has AMT #1 audio for the first two tracks.
AMT #1 had 2 audio gaps at the beginning of "Radio Friendly Unit Shifter, these have been filled with AUD #1.
AUD #1 has been slightly equalized.
Video has been re-encoded.
DVD Info:
Source: MATRIX
Created and authored by: Negative Creep
Length: 88 min (complete)
Video: 720x480, 29.97 fps, 8MB/s CBR
Audio: 448kbps/48khz, stereo
[img]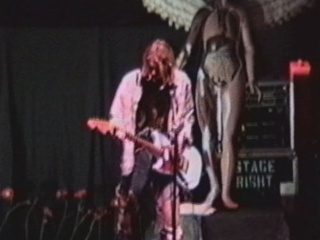 [/img]
[img]
[/img]
[img]
[/img]
[img]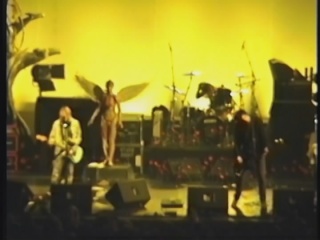 [/img]